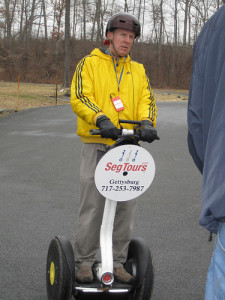 I did something last weekend that I initially balked at. A college buddy asked me if I would meet him at Gettysburg and we would hit the battlefield. His son, who is a sophomore at Gettysburg College, would join us along with one of my buddy's friends he knew from work. Sounded great to me, then my friend mentioned that his son wanted to do a Segway battlefield tour. Dave detected hesitation in my voice when we talked several days before our rendezvous. "You don't have to do it if you don't want to," Dave insisted. "You could meet us after the tour and then we could go back out on the battlefield with a Gettysburg guide." Well, what kind of friend would I be if I backed out?
I'll tell you this – if I had backed out of the Segway part of the visit I would have missed a great experience! How many different ways can you say cool? The Segway is a fabulous machine. After about 12 – 15 minutes of simple training from Sherry at the SegTours of Gettysburg headquarters we were ready to go. Ed Guy arrived to be our licensed battlefield guide and he and Sherry led us east along the streets of town toward Culp's Hill. [see contact info at bottom]
Culp's Hill saw heavy fighting during the battle, yet the area is infrequently visited compared to Little Round Top/Devil's Den or the Pickett's Charge areas. Failure to visit and traverse the terrain at Culp's Hill means you will not grasp how close Confederate Second Corps troops came to seizing this high ground late on July 2. Confederate artillery supported by gray-backed infantry on Culp's Hill would have made the Union position [base of the fishhook] on Cemetery Hill untenable. General George Meade would have been forced to deal with the Rebels in his right rear area. Had this scenario unfolded, battlefield enthusiasts might be studying a different type of day 3/July 3 outcome. But enough of the what ifs.
Ed Guy and Sherry led us along East Confederate Avenue which snakes from north to south along the eastern approach of Culp's Hill. Through the bare trees, you can readily see how difficult and steep the terrain is. Large rocks jut out of the slopes guarded by tree trunks and vines – a defenders paradise. Union troops from Major General Henry Slocum's 12th Corps had dug in along crest of the hill early on the morning of July 2. Confederates from Major General Edward Johnson's division rested in the woods and the edges of fields east of Rock Creek. By late on that afternoon, most of the Federal troops rushed off of Culp's Hill and headed down Cemetery Ridge to help turn back Lieutenant General James Longstreet's attacks on the Federal left.
The only Yanks left to defend the Union right flank were 1,424 men from Brigadier General George Greene's New York Brigade [60th, 102nd, 149th, 137th]. Greene ordered the 78th New York to move downhill as skirmishers. At 7 p.m., Johnson's men moved forward to cross Rock Creek and assault Culp's Hill. Gunfire broke out along the creek as the 78th New York tried to slow the charge of seventeen Southern regiments which totaled some 6,000 men. Greene and his four regiments heard the noise from the hill but they could not see what they really faced through the thick woods. The noise was their guide, and then the bloodied remnants of the 78th New York skirmishers returned. The fight was on as the Rebels raced the dropping sun and coming darkness. The terrain, the darkness and the well prepared Union defense lines would win out.
Ed noted several times the devastating fire that tore into the woods, de-leafing trees and splintering limbs and trunks. He described the photos taken after the battle which showed how the battle's blight on Culp's Hill stood out.
When our group reached Spangler's Spring at the south base of Culp's Hill we stopped there as Ed continued to lay out the difficult fighting. Next we headed up the steep hill along the interior of the Union lines. As we leaned forward on our machines to go uphill, I marveled at how the Segway moved effortlessly over ground where the blue and gray had expended so much effort to move themselves and their equipment. We rolled past monument after monument, almost all Union, stopping at several to read the plaques and discuss what happened.
Eventually, we reached the top of Culp's Hill and the tall lookout tower. We hopped off the machines and walked to take in the Federal view along the steep east slope. We must have been standing where the 60th New York anchored their left flank. It was no wonder the Virginians from Brigadier General John M. Jones' Brigade failed to make any headway at this spot. With fresh legs we next bounded up the lookout tower steps for one of the best views around. Don't miss the view from the Culp's Hill tower!
We hopped back on our Segways and headed downhill and passed through the low area between Culp's and East Cemetery Hill. I glanced at my watch and noted that our two hour tour was almost over – hard to believe because we had learned so much while having a ton of fun. This was a great way for the lives of a twenty-year-old and three middle-aged guys to intersect. When I returned home I regaled my wife and kids with how much fun our group had. They are on me now to take them to Gettysburg and do a Segway tour. I am seeing a good way for the new and the old to merge.
I might also add that our group enjoyed Ed Guy so much that we asked him to take us back out after lunch for a car tour of Seminary Ridge, Peach Orchard, Little Round Top and Cemetery Hill/Pickett's Charge area. Two hours plus later and we were done. Ed had filled us with many battle anecdotes and it was a fitting end to a great day!
Ed was also kind enough to bring me a list of Gettysburg stories for soldiers from all fifty states. He included a copy of a Confederate Veteran magazine image [vol. 21, 1913, p.36] of the 19th Mississippi's colonel Richard W. Phipps that I had not seen. I described Phipp's escape from Fort Whitworth as Fort Gregg fell in my recent book The Confederate Alamo: Bloodbath at Petersburg's Fort Gregg on April 2, 1865.  Most importantly, Ed brought me an image copy of Sergeant John William Sharp Morgan, Company K, 35th Georgia. Ed knew that I had written Red Clay to Richmond: Trail of the 35th Georgia released in 2004. I had never seen Morgan's image before. The book has several quotes from letters Morgan wrote to his wife, Nittie, back in Harris County, Georgia. She mistakenly received word that Morgan had died prior to the Battle of Fredericksburg in December 1862. Morgan wrote back to her on December 18: "I was sorry to learn that you heard that I was Dead, butt I am happy to inform you that this is a lie and I knew it was a lie as soon as I heard it." When Nittie received word that John had been killed on July 2, 1863 at Gettysburg – it was not a lie.
Contact info below for Segway Tours of Gettysburg and our great guide:
http://www.segtours.com/ or call toll free  1-888-473-4868
Ed Guy – Licensed Gettysburg Battlefield Guide –  1-717-334-6414