The trees stand as silent sentinels overlooking the final resting place for more than 1,000 Confederate soldiers at the Confederate Cemetery tucked into a corner on the west campus of the University of Virginia [corner of Alderman and McCormick]. During the war, several buildings housed a large Confederate hospital and most of the men buried in this place died from battle wounds or disease. The Albemarle Chapter #154, United Daughters of the Confederacy asked me to give the keynote address which I was honored to do. The title of the address was "Should We Care?: Honoring the Confederate Dead." Surprisingly, Georgia has the most dead soldiers buried here. I specifically mentioned several Georgia soldiers in my talk.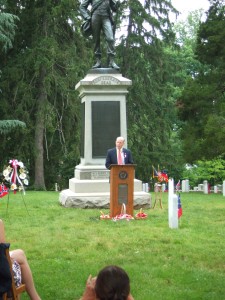 One of these soldiers was Private Robert H. Cassels from Company D, 35th Georgia Infantry Regiment. Little did this young man know when he signed up to be a Confederate infantryman in Atlanta on September 23, 1861 that his physical body would wind up here for eternity. At the Battle of Cedar Mountain that took place near Culpeper Court House on August 9, 1862, Cassels received a gunshot wound to the chest. Two days later an ambulance team delivered him to the Confederate General Hospital here. When he died more than two weeks later the only personal effects turned over to the QM were parts of a dirty uniform and $4.00.
Another one of these men was the First Sergeant for Company C, 35th Georgia, a man named Stephen Richards Dailey. He enlisted as a private at Atlanta in 1861. He was promoted to First Sergeant on July 22, 1862. Seventeen days later at the Battle of Cedar Mountain he too was wounded and arrived at the hospital here after two days of painful travel. Two weeks later and he was dead. All that remained of his existence was his name carved into a wooden headboard that rotted long-ago.
Private Charles M. Kimbrough is also buried here. He originally enlisted in 1861 in the 6th Georgia but was discharged 3 months later for a disability. Then in 1863, he enlisted again at Macon, Georgia and joined the 45th Georgia. His path to this spot was quite painful. On May 6, 1864 he was shot in the right breast at the Wilderness. He arrived at the hospital here. Infection had set in on his wound. Then gangrene took over followed by pneumonia. I cannot imagine the agony as he struggled to survive. Only $24.50 were listed as his personal effects after he died.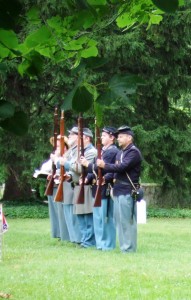 The weather was perfect despite a forecast that threatened rain. The speaker's podium stood near the base of a tall bronze statue of a southern infantryman. This sculpture was erected in 1893 and was dedicated by the Ladies' Confederate Memorial Association. Most of the soldiers buried here lack a permanent headstone because when they first died a crude wooden headboard scrawled with their name was pushed into the freshly turned dirt above their grave. The boards soon rotted. The great ladies from the Albemarle UDC are raising funds to erect permanent markers for each soldier. On this day they dedicated permanent markers for 31 soldiers. Bravo for them! The ceremony closed out with an infantry rifle salute given by members of the 19th Virginia Infantry Camp, Company B, The Albemarle Rifles. Charles Terry then blew taps on his bugle – a moving end to honor the sacrifice by brave Americans!
If you are in Charlottesville make sure to visit this piece of hallowed ground.