Johann Gotlieb Riethmiller jumped off a boat in America in 1847. The seventeen-year-old did not record why he and his older half-brother decided to leave their German birthplace and take a long trip to another country. Johann was born in Kirchheim unter Teck in the German Kingdom of Wuertemberg on March 15, 1830. Their travels took them to Pittsburgh, just across the Ohio River from the state that Johann would eventually sign up to fight for when the War began for him nearly a lifetime later.
Our sad story of Riethmiller begins with his Civil War enlistment in Company E, 116th Ohio Volunteer Infantry Regiment. Military records reveal that he had Americanized his first name to John and some of the paperwork even reversed the vowels in his last name to Reithmiller. The men in Company E came from Monroe County on the Ohio River south of Wheeling, West Virginia. Riethmiller's war travels took him to Virginia where he received a wound in the side during the Battle of Lynchburg [Va.] on June 17-18, 1864. He recovered from his wound and returned to duty.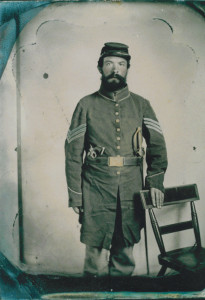 As the cold winter of 1864-1865 gave way to the warm breezes of spring, the 116th Ohio manned a defense line southeast of Richmond. The regiment was assigned to Brigadier General John W. Turner's Independent Division in Major General John Gibbon's newly formed Twenty-fourth Corps. Riethmiller's brigade commander was Lieutenant Colonel Andrew Potter, formerly from the 34th Massachusetts, who was moved to the brigadier's position because of the high officer casualties suffered in the 1864 Shenandoah Valley fighting.
At mid-day on April 2, 1865, Sergeant Riethmiller and his fellow Buckeyes stood as reinforcements in line of battle about 500 yards south of Fort Gregg. The earthen walled fort stood about two miles southwest of Petersburg and blocked the Union drive to capture the strategic town held by General Robert E. Lee's army.
The fort bristled with Confederate soldiers and guns. At 1 p.m., the first Union attack wave charged forward across hundreds of yards of open ground. Rebel bullets and canister balls zipped into the blue uniformed troops of Brigadier General Robert Foster's division – some two thousand men. Those soldiers lucky enough to avoid getting hit soon approached the fort's fourteen foot high walls only to discover another problem. A deep water-filled moat surrounded Fort Gregg on three sides.
The first attack deteriorated as Foster's men sardined themselves into the moat and tried to clamber up the steep muddy walls. Twenty-eight-year-old Lieutenant Colonel Wilbert B. Teters soon received orders for his 116th Ohio troops to charge. Teters' 350 men raced forward with the 34th Massachusetts on the right and the 12th West Virginia on the left.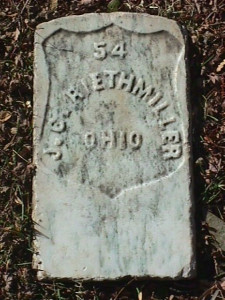 Sergeant Riethmiller led a squad around and over the numerous Union bodies that blocked their way. Near the moat he saw a fold in the ground that might provide some cover for his men and the group dove to the ground. Moments later he rose up to continue forward, but a rebel on the fort's parapet sighted in the thirty-five-year-old German born American. The Southerner pulled the trigger on his rifle and Riethmiller fell to the ground.
Union troops eventually overwhelmed Fort Gregg, capturing or killing the entire Confederate garrison save one lucky escapee. A short time later, a Federal burial detail began its sad work. When they finally tossed their shovels down, 122 new Union headboards poked out of the ground in front of Fort Gregg's moat. Mounds of dirt behind the fort indicated the graves of 57 Confederate defenders. Carved into one of these boards was John Riethmiller's name. He missed surviving the war by only one week. His body would later be moved to a nearby national cemetery called Poplar Grove.
I want to thank Sergeant John Riethmiller's great-great grandson, Fred Reithmiller, for contacting me after he had read The Confederate Alamo and providing more background info plus the great war-era photo.